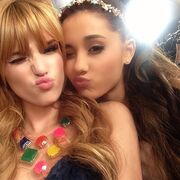 Beriana (Be/lla y A/riana) es la pareja en mundo real formada por Ariana Grande y Bella Thorne.
Bella y Ariana son buenas amigas desde hace mucho tiempo, y disfrutan de salir juntas. Ariana está feliz de poder invitar a Bella a celebraciones que son importantes para ella y Bella igual. A pesar de que muchos creen que puede haber un conflicto entre ellas, ambas han provado lo contrario.
Para ver la pareja en la serie de Teri Hayden y Jarah, visita Jeri.
Ariana y Bella caminaron en la alfombra roja juntas (también con Frankie Grande).
Bella tuiteo: Conversamos con @ArianaGrande en la alfombra de #dsawards dulce chica.
Ariana hizo una celebración el 7 de diciembre de 2011, en la cual invitó a Bella.
Mientras se entregaban los premios Radio Music Awards, Ariana salía con Bella.
Bella siguió el ejemplo de peinado de Ariana.
Ambas se siguen en twitter.
Ad blocker interference detected!
Wikia is a free-to-use site that makes money from advertising. We have a modified experience for viewers using ad blockers

Wikia is not accessible if you've made further modifications. Remove the custom ad blocker rule(s) and the page will load as expected.